Certificate in Leadership and Strategy for Population Health
Overview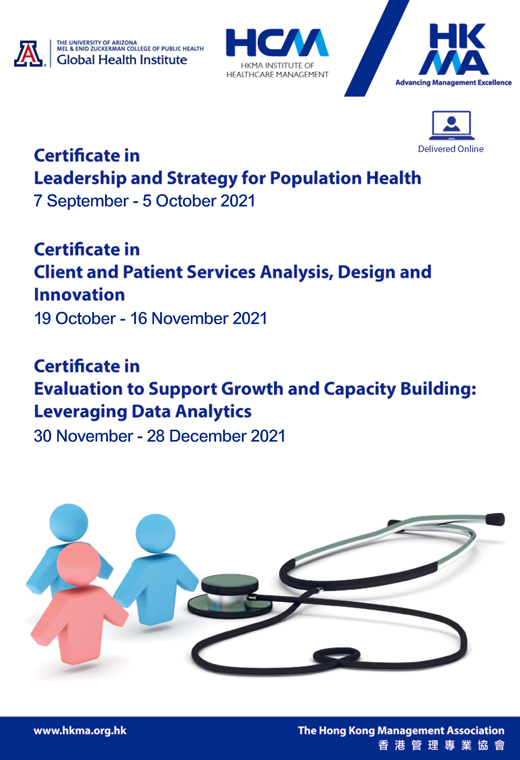 Hospitals, as a part of their population health strategies, want to develop tailored programmes to address social determinants that influence patient care outside a hospital or clinic. Public health 3.0 calls on public health agencies to develop a proactive community engagement strategy to tailor prevention practices to address the health needs of distinct population groups and improve their health behavior.
Addressing population health in today's evolving technology landscape and growing consumerism needs to develop a coordinated communication and strategy using a number of actors outside either healthcare provider or public health ecosystem.

To support this effort, The Hong Kong Management Association Institute of Healthcare Management and Global Health Institute Academy, Mel and Enid Zuckerman College of Public Health, University of Arizona are jointly offering three distinct certificate programmes:
Certificate in Leadership and Strategy for Population Health
Certificate in Client and Patient Services Analysis, Design and Innovation
Certificate in Evaluation to Support Growth and Capacity Building: Leveraging Data Analytics
Information at a Glance
Deadline for New Application:
Tuition fee for Members:
HK$3,000
Tuition fee for Non-members:
HK$3,300
Medium of Instruction:
English
Mode of Instruction:
Online
Brochure
Details
Organizational transformation in the digital age, or digital transformation, calls for exploring innovative services that leverage advanced technologies to integrate evolving client needs with an agile organizational model that uses processes and internal and external resources to create and fulfill value. Referred to as digital or enabling leadership, an agile organizational model needs to use multiple value cycles to create, fulfill, and assess value-in-use in a client ecosystem. The rate of change in client value expectations and the agility with which an organization can address these changes using innovative digital services define the scope of digital strategies. The implementation of these digital strategies requires actors from inside and outside the partner network who are structured as empowered teams to define and implement innovative digital services using cross-disciplinary thinking and client engagement.
Digital leadership needs governance to support these empowered teams by using collaborative competency and risk mitigation strategies. The aim is to build digital platforms to help adopt digital services that address organizational vision and mission and support its growth and/or capacity building. Using both theory and illustrative cases, this module highlights the role of multiple leadership processes (administrative, enabling, and adaptive) in formulating digital strategies and using an agile organizational model to implement these strategies. This certificate will discuss the steps used to build organizational leadership using strategy, structure, and governance.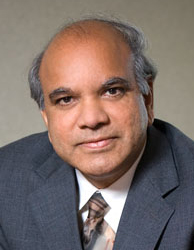 Professor Mohan R Tanniru, PhD
Professor, Division of Public Health Practice and Translational Research, Mel and Enid Zuckerman College of Public Health, University of Arizona
Senior Investigator, Henry Ford Health System, Detroit, Michigan
Emeritus Professor of MIS at Oakland University, Michigan
Dr Mohan Tanniru is the Professor in the Division of Public Health Practice and Translational Research in the Mel and Enid Zuckerman College of Public Health, University of Arizona, Tucson/Phoenix and a Senior Investigator in the Global Health Initiative at Henry Ford Health System in Detroit, Michigan. He is also an Emeritus Professor of Management Information Systems (MIS) of Oakland University. Dr Tanniru was the former Dean of the School of Business and the founding director of Applied Technology of Business Programme at Oakland University, and the Department Head of MIS at University of Arizona. His research covers areas like knowledge/decision support, IT strategy and systems and service modeling and more recently in digital health and healthcare leadership and management.
Dr Tanniru has published over 90 research articles and his work has appeared in journals such as ISR, MIS Quarterly, Decision Sciences, DSS, JMIS, IEEE Transactions in Engineering Management, Expert Systems and Applications, Information and Management, CACM, as well as Health Policy and Technology, Journal of Patient Satisfaction, Journal of Healthcare Management and Journal of Healthcare Administration. He worked with several hospitals like Beaumont Health Systems, Ascension/Providence, Henry Ford Health System and St Joseph Mercy Health System/Trinity all in Michigan, and many major business organizations such as GM, Chrysler, Ford, Compuware, HP/EDS, Honeywell, Intel, SAP and Raytheon among others.
HKMA Institute of Healthcare Management
The HKMA Institute of Healthcare Management (HCM) was established in 2017 to offer world-class healthcare management programmes and to serve as a learned platform for healthcare professional development with a view to making significant contribution to advancing management excellence in the healthcare sector in Hong Kong and the Region. Through education and training, HCM nurtures human capital in the healthcare sector. HCM also provides a network for renowned scholars and experts to interact with the healthcare professionals and practitioners, as well as our fellows and members. In the process, best practices, state of the art knowledge and innovative ideas relevant to healthcare management sector are generated and promoted.
Tuesday 7, 14, 21, 28 September; 5 October 2021
Admissions
Fee
HKMA Member: HK$3,000
Non-member: HK$3,300
Enquiry
Course Details
General Enquiry / Course Enrolment / Membership Information