Enhance Service Quality & Build Trust with Clients
(IMCHK accredited training programme. Participants can earn 7 CPD units for their continued membership enrolment with IMCHK)
Management Consultants provide valuable and innovative advice to organizations to improve their performance. They may assist in areas such as the formulation of new strategies, helping the organization prepare for change, identifying and managing risks, training and developing her staff, or simply improving the ways the firm has been functioning.
There were large possibility of disagreement happened to a "consultancy assignment" between a Management Consultant and a client, or a firm. Such disappointment ruined the reputation, and bad words would be spread out to friends and other business owners.
In order to avoid all that confusion and grievances, the ISO 20700:2017 Guidelines for Management Consultancy Services was developed by CMC-Global (International Council of Management Consulting Institutes, ICMCI) with International Organization for Standardization (ISO). It aims to improve the transparency and understanding of consultancy assignments between service providers of management consultancy and their clients.
Application & Brochure
Commencement Date:
8 May 2021 (Sat)
9:00am-5:00pm
Application Deadline:
1 May 2021 (Sat)
Mode of Instruction:
Face-to-face / Online
Due to current COVID-19 situation, the mode of instruction might be changed from face-to-face to online teaching if necessary in the event that face-to-face classes cannot be held. The Association will contact the students concerned with details of such arrangements as necessary.
---
The International Standard (ISO 20700)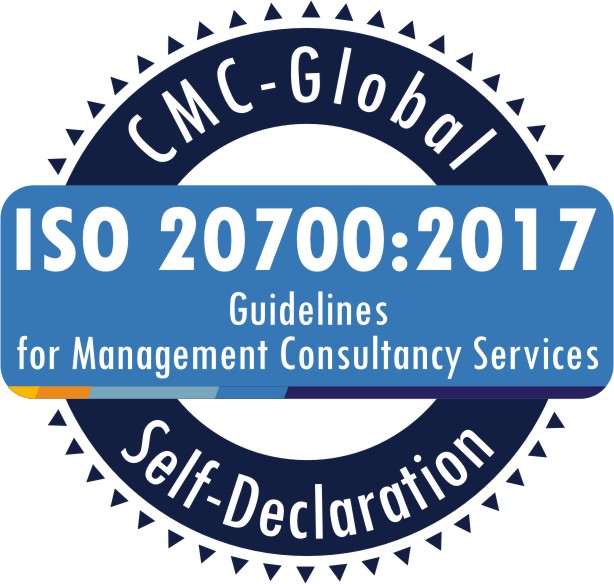 The International Standard (ISO 20700) enables:
The service providers to well understand the client's expectation and reduce risk in management consultancy service;
Management consultants communicate effectively with clients and build trust with them;
A "check list" to be used to ensure all procedures and expectations are listed out promptly; and
Consultants can contribute their expertise, advice, and supports to the clients' organization with no barriers.
---
Details
OBJECTIVES
Upon completion of the workshop, participants should be able to:
Understand the requirements, processes and good practices of management consulting based on ISO 20700; and
Understand the approaches, methods, techniques and structure of consulting activities.
TARGET PARTICIPANTS
The ISO 20700 training programme targets to Management Consultants and those who are interested in pursuing his/her career in Management Consulting field.
METHODOLOGY
Workshop, Case Study and Practices
CONTENTS
Introduction to Self-Declaration Checklist
Application of the Self-Declaration Check List
Practices in Contracting
Practices in Execution
Practices in Closure
Practices in Policies
FEE
HK$3,500 (included the Certification fees)
SPECIAL OFFERS:
Participants who have attended the "ISO 20700 – A Standard for Outstanding Practices" (GSOP) in the past can attach the copy of the "Record of Attendance" to enjoy HK$300 (HKMA or IMCHK member) / HK$100 (Non-member) discount when enroll for ISO 20700 for Consultancy & Service Providers (1-day training).
SPEAKER
An IMCHK Authorized Trainer (ICMCI Certified ISO 20700 Trainer)
MEDIUM OF INSTRUCTION
Cantonese (supplemented with English terminologies). Course materials are in English.
---
Award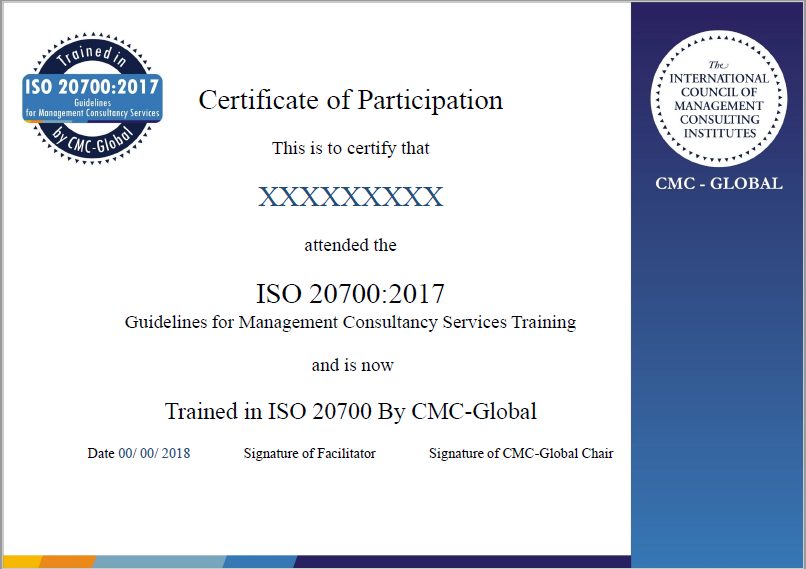 Participants will receive a certificate issued by IMCs and ICMCI, which enables you to be able to work with service providers according to the requirements set by ISO 20700.
ISO 20700 Certificate can be posted in your office to demonstrate your ISO20700 training, and ISO 20700 logo can be affixed on business cards for individuals.
---
Enquiries
Course Details
General Enquiry / Course Enrolment / Membership