Enhance Service Quality & Build Trust with Clients
(IMCHK accredited training programme. Participants can earn 7 CPD units for their continued membership enrolment with IMCHK)
From the point of view of a company, you want to hire consultants or service providers to work on a problem to deliver a solution within a time period and within stated resources.
From the point of view of consultants or service providers, you would like to let your client know what you could deliver to meet the client requirements and expectation.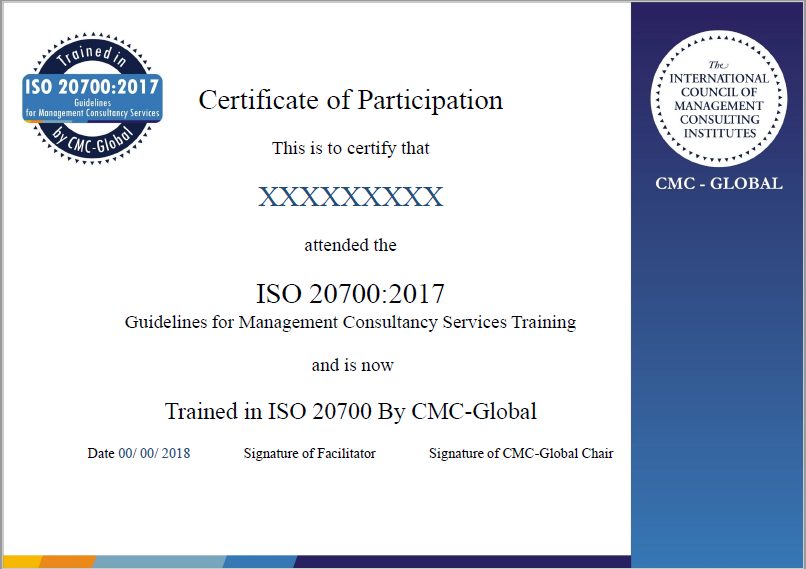 ISO 20700 is doing exactly the above. The ISO 20700:2017 Guidelines for Management Consultancy Services was developed by CMC-Global (International Council of Management Consulting Institutes, ICMCI) with International Organization for Standardization (ISO). It aims to improve the transparency and understanding of consultancy assignments between service providers of management consultancy and their clients.
The 1 day training on the ISO 20700 Training for Consultancy Services is jointly organized by The Hong Kong Management Association (HKMA) and The Institute of Management Consultants Hong Kong (IMCHK). IMCHK is the professional chapter and qualifying body for management consultants in Hong Kong and Macau.
---
ISO 20700 CERTIFICATION
In order to provide practical and hands on support for management consultants in demonstrating their work according to the ISO 20700, CMC-Global has developed a self-declaration checklist to the ISO 20700 Guidelines for management consultancy services. This list, as well as the extent and the content of the list, are agreed individually by client and provider for project and service delivery.
CMC-Global makes this list available in a "Train the Trainer" training provided to all its Member Institutes to accredit them to provide the training to all Management Consultants (MCs) and Certified Management Consultants (CMCs) of IMCs, with a certificate issued by the IMCs and ICMCI.
---
Details
YOU WILL GET
You will receive a certificate issued by IMCs and ICMCI, which enables you to be able to work with service providers according to the requirements set by ISO 20700.
WHO MUST ATTEND
Those who are aspiring to become a consultant, consultants themselves, service providers or involved in working with consultants would find the talk useful.
METHODOLOGY
Workshop, Case Study and Practices
PROGRAMME OUTLINE
Introduction to Self-Declaration Checklist
Application of the Self-Declaration Check List
Practices in Contracting
Practices in Execution
Practices in Closure
Practices in Policies
FEE
HK$3,500 (inclusive of the Certification fees)
SPECIAL OFFERS:
Participants who have attended our talk on the "ISO 20700 – A Standard for Outstanding Practices" (GSOP) in the past can attach the original official receipt of the talk to enjoy the same dollar amount discount for the 1-day training. One receipt for one training participant.
SPEAKER
An IMCHK Authorized Trainer (ICMCI Certified ISO 20700 Trainer)
MEDIUM OF INSTRUCTION
Cantonese (Complemented with English materials)
---
Enquiries
Course Details
General Enquiry / Course Enrolment / Membership