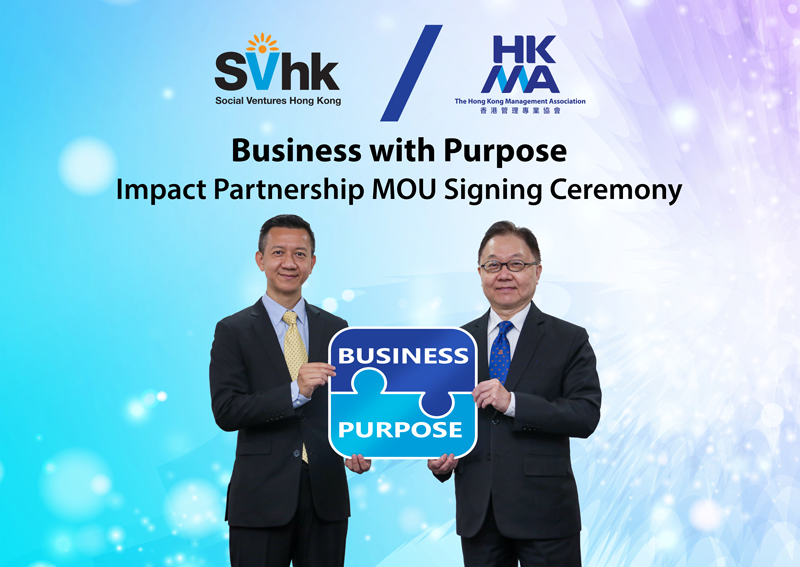 The Hong Kong Management Association (HKMA) and Social Ventures Hong Kong (SVhk) signed a Memorandum of Understanding (MOU) to form an Impact Partnership, under which a series of initiatives will be launched to promote the pursuit of "Business with Purpose" in Hong Kong's business community.
The collaboration is marked by an MOU Signing Ceremony held yesterday at the HKMA Advanced Management Development Centre. The MOU was signed by Dr Victor Lee, Executive Director of the HKMA and Mr Francis Ngai, Founder and CEO of SVhk.
HKMA is a non-profit-making professional organization established in 1960 for the purpose of advancing management excellence in Hong Kong and the Region. Established in 2007, SVhk is an Impact Purpose Organization committed to re-imagining a purpose-driven city by pioneering impact ventures to create positive social change. With a view to leveraging HKMA's existing capabilities and aspirations towards further mobilizing members and networks to become more purposeful, the two organizations hope that the Impact Partnership will increase the momentum of the purpose business movement and maximize the benefits to the society at large.
Under the Impact Partnership, HKMA and SVhk will co-create an impact strategy for HKMA, as well as form a collaborative "Business with Purpose" platform to advance social impact considerations and innovations in business. The two organizations will jointly launch a series of initiatives under four key pillars, namely Advocacy, Award, Advisory and Academy.
A number of pioneering companies and organizations will be engaged by HKMA and SVhk to declare their commitment to integrating purpose into their core business strategies under the Advocacy pillar. As for Award, HKMA will build on its efforts to recognize purposeful business activities via its business awards and incorporate business purpose into the judging criterion. In terms of Advisory, drawing on SVhk's expertise, HKMA will work with a pilot group of HKMA members to collectively brainstorm and discuss potential impact strategies and opportunities. The Academy pillar will feature seminars, workshops and professional development courses co-curated by HKMA and SVhk for business executives on sustainability and social impact creation, with the aim to nurture more talent in this area.
Dr Victor Lee, Executive Director of the HKMA, said: "With sustainability being one of our core values, HKMA has established the Sustainability Committee to provide advice to our work and has launched the Hong Kong Sustainability Award to honour purposeful activities. As passionate believers in the value of social good in making the community a better place to do business, to work and to live, we are excited to join hands with SVhk to lead the purpose movement in business and set directions for an era of purpose ahead. Through the comprehensive initiatives covered by this partnership, we definitely look forward to the positive impacts that will be brought on the business community at large."
Mr Francis Ngai, Founder and CEO of SVhk, added that "Over the past years, SVhk has developed a 'Business 2.0' platform that brings together partners across business, philanthropic and non-profit sectors to invent and incubate social innovation solutions and impact ventures. With complementary experience and knowledge under our belt, SVhk is committed to transforming Hong Kong's business landscape into a more purposeful one with HKMA's extensive network. We believe our joint efforts will encourage more businesses to embark on this meaningful journey, and we are hopeful that together we can turn Hong Kong's social and environmental challenges into driving forces for growth."
This collaboration will contribute to the beginning of "The Decade of Purpose Business". A launch briefing and sharing session will be hosted by HKMA and SVhk to share more about upcoming activities in April. All interested parties are welcome to attend and join us in redefining sustainability for the next decade.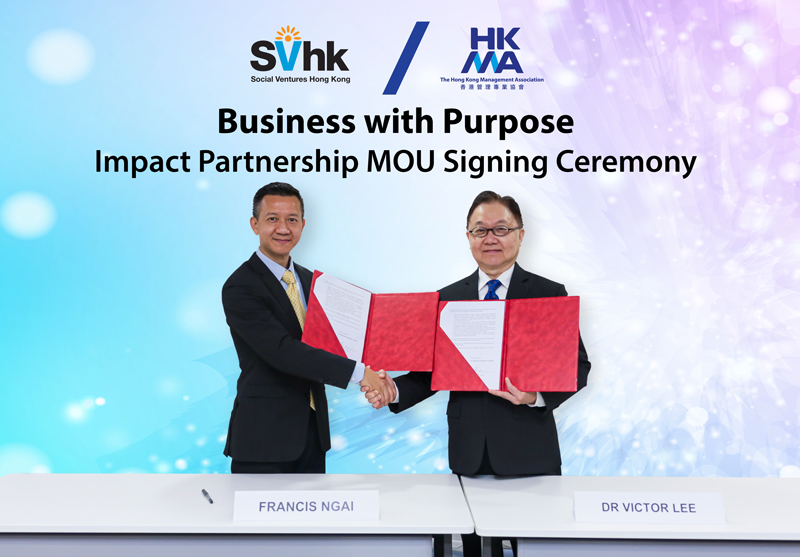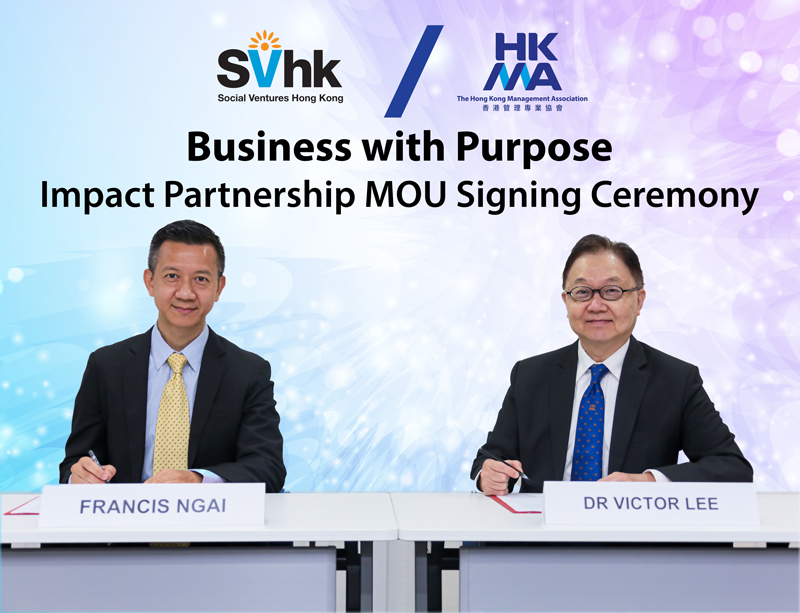 ---
About The Hong Kong Management Association
The Hong Kong Management Association (HKMA) was established in 1960. As a non-profit making professional organization, its vision is to be the leading professional organization advancing management excellence in Hong Kong and the Region. To nurture human capital through management education and training at all levels, the Association offers over 2,000 training programmes and activities to more than 50,000 participants annually. A diverse range of programmes are provided including Bachelor, Master and Doctoral degrees offered in partnership with prestigious universities worldwide; Diploma programmes; Certificate courses; Distance Learning courses; seminars and workshops; as well as short courses for business executives and professionals. To promote best practices in management, the Association organizes eight annual business awards, which have become the highlights of the business community. The Association also provides around 13,000 members with a platform for the exchange of ideas, networking and personal development.
About Social Ventures Hong Kong
Social Ventures Hong Kong (SVhk) is an Impact Purpose Organisation committed to re-imagining a purpose-driven city. SVhk drives innovative social change for Hong Kong's urban social challenges through pioneering impact ventures, cultivating a movement of good and orchestrating impact capital. Since its founding in 2007, SVhk has invented and incubated more than 40 social innovation projects including Light Be (empowerment housing), Green Monday (plant-based movement), and HATCH (co-working factory). SVhk is also committed to mainstreaming impact value creation through its "Business 2.0" platform and has advised a number of notable Hong Kong businesses including Airport Authority Hong Kong, Cathay Pacific, Urban Renewal Authority, Bupa Hong Kong, Hong Kong Broadband Network and Garage Society.
---
Jointly issued by The Hong Kong Management Association and Social Ventures Hong Kong on Tuesday, 23 February 2021.