HKMA x ABC Pathways TFund (Edu)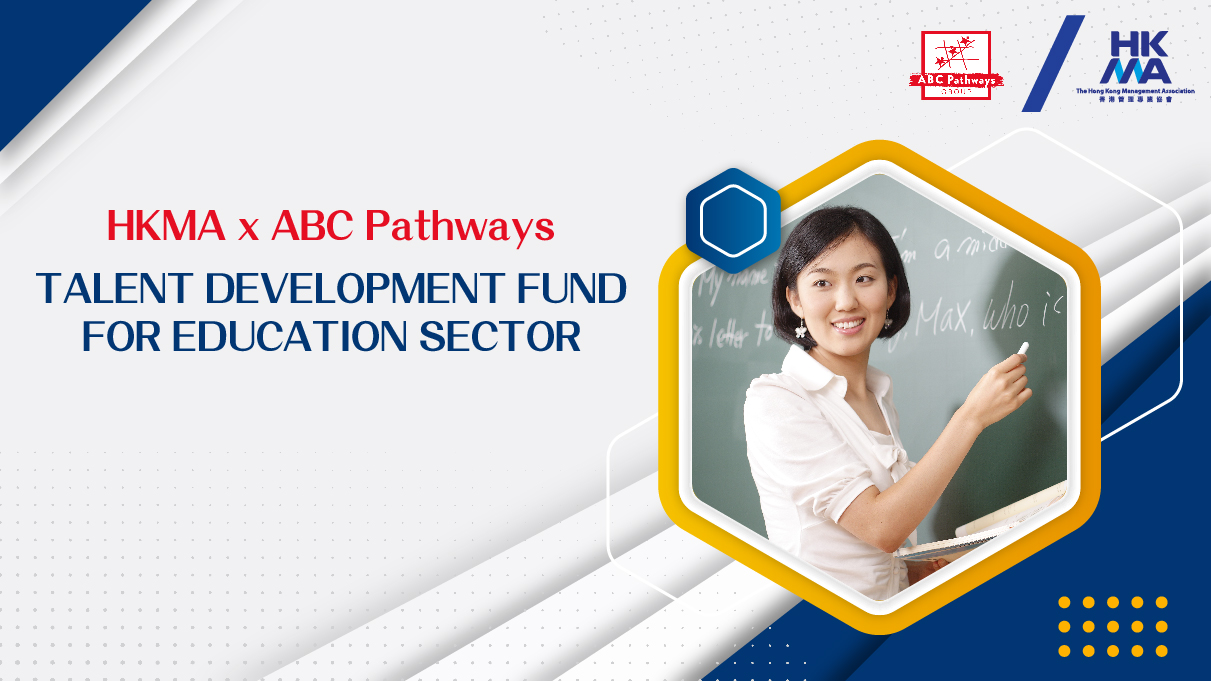 Introduction
In recent years, Hong Kong's Education Sector faces severe challenges brought by the lingering effects of COVID-19, teacher turnover and decline in student population. To help schools retain and nurture talents, the HKMA has partnered with ABC Pathways Group and is proud to jointly announce the launch of the HKMA X ABC Pathways Group Talent Development Fund for Education Sector.
The Fund aims to provide financial support to aspiring professionals in the Education Sector in pursuing higher qualification and equip them with knowledge and skills that are highly-relevant to their work. HKMA and ABC Pathways Group both believe strongly that learning is a life-long journey; and by enrolling in further studies themselves, teachers will become inspiring role models for our next generations.
Programmes
The Fund will award one full scholarship (up to HK$96,500) as well as ten HK$10,000 scholarships, for either of the two degree programmes below:
MA Education (Early Childhood Studies), a 12-month programme jointly offered by HKMA and University of Huddersfield and fully taught by UK faculty. University of Huddersfield is ranked among the Top Ten in England for teaching excellence. It has won numerous prestigious awards, such as The Queen's Anniversary Prize 2021, QS 5 Stars for Internationalisation 2019 and HEA Global Teaching Excellence Award 2017.
MSc Business Psychology, an 18-month programme jointly offered by HKMA and University of Worcester and taught by both UK and local faculty. University of Worcester is ranked #1 in UK and #26 globally for quality education (The Times Higher Education University Impact Ranking 2019). For 11 consecutive years, it was awarded First Class Honours under the People and Planet University League.
It is a matter of discretion for individual employers to recognize any qualification to which these courses may lead.
個別僱主可酌情決定是否承認本課程可令學員獲取的任何資格。
Application (intake, requirements, procedures)* and admission decisions are the sole authority and discretion of respective universities. *Subject to change without notice.
How to Apply
Applicants are required to submit a write-up of around 500 words in English, on "How I Would Contribute to Hong Kong's Education Sector after Completion of the Programme."
Applicants are requested to submit the followings by post:
Fund application form (Download here)
Programme application form with supporting documents (Please download at respective programme webpages)
Write-up on the proposed topic
Shortlisted applicants may be invited to an interview by the Selection Committee.
About the Hong Kong Management Association
The Hong Kong Management Association (HKMA) was established in 1960. As a non-profit making professional organization, its vision is to be the leading professional organization advancing management excellence in Hong Kong and the Region. To nurture human capital through management education and training at all levels, the Association offers over 2,000 education and training programmes and activities to more than 50,000 participants annually. A diverse range of programmes are provided including Bachelor's, Master's and Doctoral degrees offered in partnership with prestigious universities worldwide; Diploma programmes; Certificate courses; Distance Learning courses; as well as seminars and workshops for business executives and professionals. To promote best practices in management, the Association organizes forums and conferences as well as nine annual business awards, which are recognized as the highest accolades of the business community, providing an exemplary model for business professionals to follow and benchmark. With a membership of 13,000 executives and 500 companies, from multinationals to SMEs, the Association offers a wide range of activities through its six Specialist Clubs and provides members with an excellent platform for exchange of ideas, networking and personal development.
About ABC Pathways Group
ABC Pathways Group, established in 2002 with ABC Pathways School, is dedicated to providing an education where stress-free learning and positive reinforcement and encouragement lead to exceptional academic results. As pioneers in the education sector, ABC has implemented its extensive knowledge of worldwide trends in education and English language assessment to benefit all its learners. The group aims to promote the blending of "happiness", "academic learning", "character building" and "parental bonding" and steer Hong Kong towards becoming a Happy Learning city, where every student can enjoy the learning journey, and be proud of their accomplishments and results. ABC Pathways Group is comprised of English language schools, international kindergartens, franchised learning centres, a charitable foundation, a strategic marketing agency, and an epidemic protection product platform. With close links to Cambridge University Press (CUP), ABC Pathways Group is an authority on Cambridge English Language Teaching (ELT) materials. Since 2004, ABC has operated as an exclusive "Educational Partner" of CUP, and in 2021, the group was recognised by Cambridge English Language Assessment as an Authorised Linguaskill Agent in Hong Kong (SAR).
Please download the fund application (here).
APPLICATION DEADLINE: 6 February 2023
HKMA Talent Development Fund
The Hong Kong Management Association
16/F Tower B Southmark
11 Yip Hing Street
Wong Chuk Hang
Hong Kong
For enquiries, please contact The Hong Kong Management Association:
Ms Carmen Tam (2774 8530 / carmentam@hkma.org.hk)
Ms Karen Sham (2774 8525 / karensham@hkma.org.hk)