Seminar on Transforming Public Health Using Value Lens and Extended Partner Networks
Overview
Organizational transformations have focused on creating and fulfilling value for customers, leveraging advanced technologies. Transforming public health (PH) faces an interesting challenge. The value created (preventive practices) to fulfill policy makers' desire to reduce healthcare costs is realized by several external partners with varying goals and is practiced by the public (value in use), which often places low priority on prevention.
This presentation will discuss the use of value lens to argue that PH transformation strategy must align the goals of all stakeholders involved. This may include allowing partners and the public to contextualize the preventive practices to see the value in near term and as relevant. It also means extending the number of partners PH uses and helping them connect with the public to seek shared alignment in shared goals of value fulfillment and value-in-use.
Using lessons from Covid-19 and PH experience with partners in four different sectors: business, healthcare, public and community, the seminar will illustrate how PH transformation strategy can be implemented going forward.
Seminar Speaker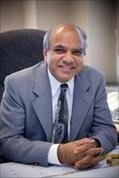 Professor Mohan R Tanniru, PhD
Professor, Division of Public Health Practice and Translational Research, Mel and Enid Zuckerman, College of Public Health, University of Arizona
Senior Investigator, Henry Ford Health System, Detroit, Michigan Emeritus Professor of MIS at Oakland University, Michigan
Dr Mohan Tanniru is the Professor in the Division of Public Health Practice and Translational Research in the Mel and Enid Zuckerman College of Public Health, University of Arizona, Tucson/Phoenix and a Senior Investigator in the Global Health Initiative at Henry Ford Health System in Detroit, Michigan. He is also an Emeritus Professor of Management Information Systems (MIS) of Oakland University. He was the former Dean of the School of Business and the founding director of Applied Technology of Business Programme at Oakland University, and the Department Head of MIS at University of Arizona. His research covers areas like knowledge/decision support, IT strategy and systems and service modeling and more recently in digital health and healthcare leadership and management.
Dr Tanniru has published over 90 research articles and his work has appeared in journals such as ISR, MIS Quarterly, Decision Sciences, DSS, JMIS, IEEE Transactions in Engineering Management, Expert Systems and Applications, Information and Management, CACM, as well as Health Policy and Technology, Journal of Patient Satisfaction, Journal of Healthcare Management and Journal of Healthcare Administration. He worked with several hospitals like Beaumont Health Systems, Ascension/Providence, Henry Ford Health System and St Joseph Mercy Health System/Trinity all in Michigan, and many major business organizations such as GM, Chrysler, Ford, Compuware, HP/EDS, Honeywell, Intel, SAP and Raytheon among others.
Information at a Glance
Commencement Date:
September 16, 2020
Tuition fee for Members:
HK$180
Tuition fee for Non-members:
HK$380
Medium of Instruction:
English
Mode of Instruction:
Online
Brochure
Enquiry
Course Details
General Enquiry / Course Enrolment / Membership Information
---

---