Overview
The Doctor of Philosophy Programme (PhD) is offered by The Graduate School of Business at Universiti Sains Malaysia. It is a research based programme. The standard and maximum duration of the programme are 3.5 years and 5 years.
Information at a Glance
Commencement Date:
September 19, 2020
Deadline for New Application:
August 7, 2020
Medium of Instruction:
English
Brochure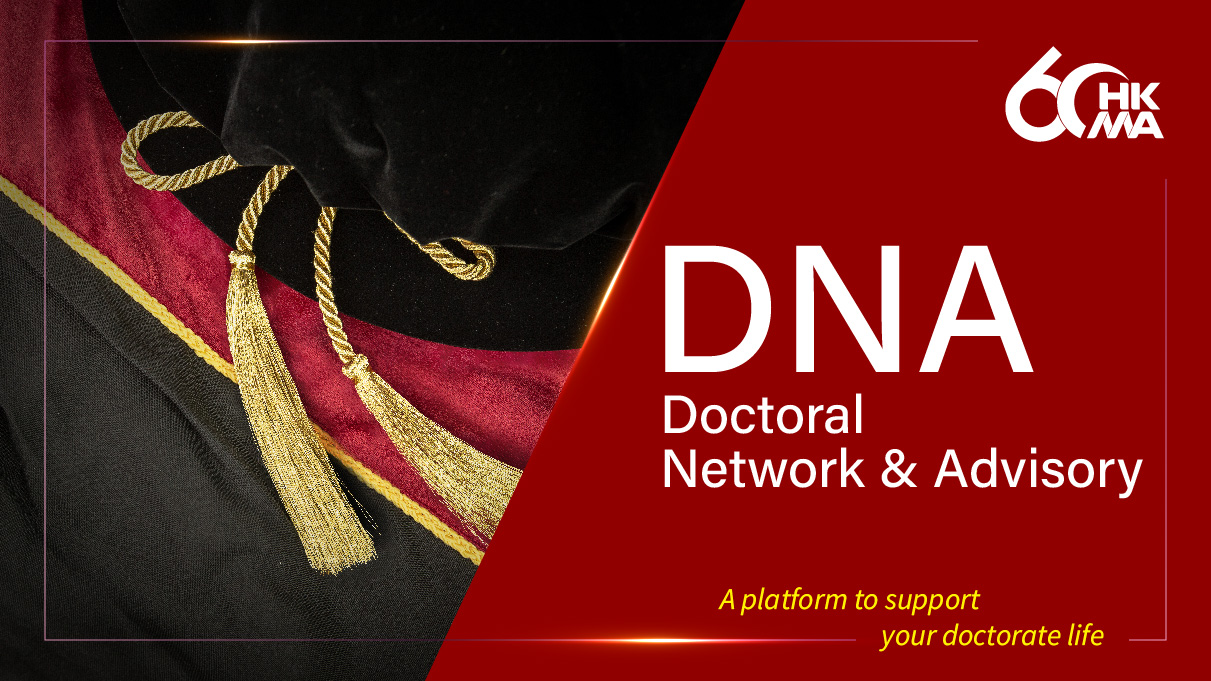 Universiti Sains Malaysia
Established in 1969, Universiti Sains Malaysia (English: University Science Malaysia) (USM) is the first science university and the second oldest university in Malaysia. USM is a public university and located in Penang with the main campus of 416.6 hectare where it is surrounded by the beautiful natural environment. The university currently has approximately 30,000 students at both undergraduate and postgraduate level.
With 17 dedicated research centres, USM is one of the most dynamic and progressive universities in Malaysia as well as in the Asia-Pacific region and is a leading research institution for research in South East Asia region.
The university is also internationally well recognized. The university has been ranked 142 by the QS World University Rankings 2020. The university takes pride in its ability to deliver high quality programmes that equip students with the ability to overcome real-world challenges as well as the ability in forging extensive connection with industry and professional bodies.Besides, this PhD programme is offered by the Graduate School of Business, in which their global partners and foreign students come from over 10 countries and regions.
Details
Nurture business scholars who can apply business theory and practice towards promoting the wellbeing of the community and the environment
Develop business scholars who demonstrate a high-level of creativity, analytical thinking and problem-solving skills in offering robust solutions
Produce business scholars with advanced skills in research, writing and knowledge sharing on matters relating to business sustainability
Produce business scholars who are capable of examining any business enterprise and discern its strengths, weakness, opportunities, and threats; and use these findings to make appropriate business recommendations
A. Major Thesis
The principal component of the PhD is a major thesis of at least 50,000 words, embodying the results of an original research project. In order to fulfil the graduation requirements stipulated by the University, students are required to publish one article related to their thesis chapters in Scopus Indexed Journal during their period of candidature. The assigned supervisors, also being the co-authors of supervisees' academic work, will work closely together with students throughout their studies.
PhD research areas at GSB are categorised into six areas:
Financial Research for Emerging Markets
Marketing
Innovation in Operation Management
Global Strategy and Organizational Behavior
Social Innovation and Sustainability
Sustainability Accounting and Governance
B. Workshops
The workshops are designed to widen your knowledge, to place the specialized research project within a broader disciplinary context and to enhance your research skills.
Completing Research Methodology Workshops 1 and 2 with a minimum passing grade of "B" is a requirement for the completion of the PhD programme.
Research Methodology Workshops 1 and 2
Statistical Analysis Workshop
These structured workshops are designed to ensure you have the knowledge, skills and capability to be able to read graduate level content and harvest the knowledge you need from it.
C. Checkpoint
There are 4 checkpoints, candidates must submit and/or present their work for review, including:
Conceptual paper submission and presentation
Research proposal submission and defence
Data collection and analysis submission, and findings defence
Final thesis submission and Viva Voce
D. Compulsory Bahasa Malaysia Language Workshop
The Graduate School of Business offers a complimentary language workshop "LKM 100 Bahasa Malaysia" to all participants. The course will be an interesting way for you to learn the traditional language of Malaysia. Students are allowed to take the examination with multiple attempts. Completing this course with a minimum passing grade of "C" is a requirement for the completion of the PhD programme.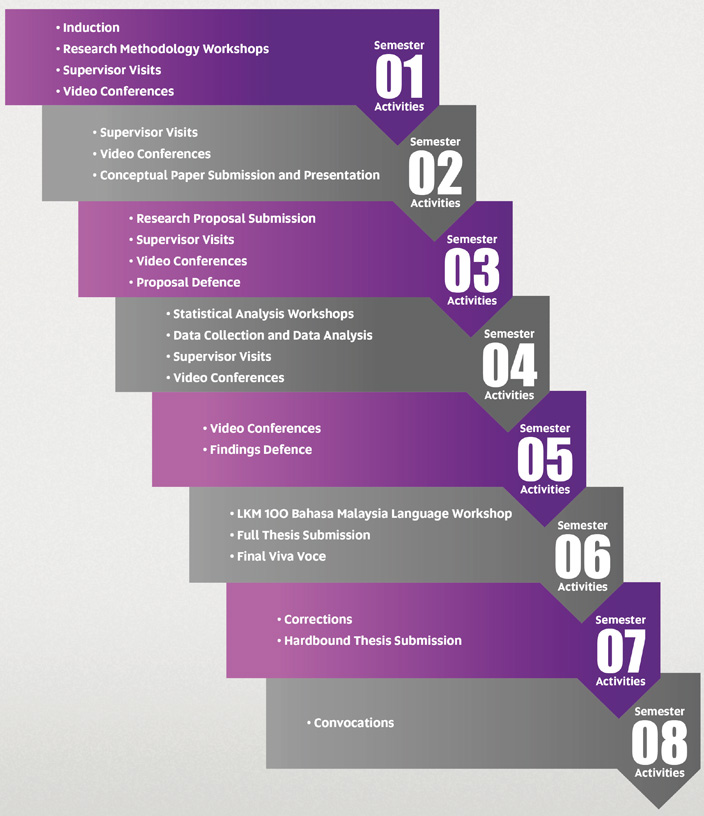 Endorsement from Malaysian Business Leaders and Alumni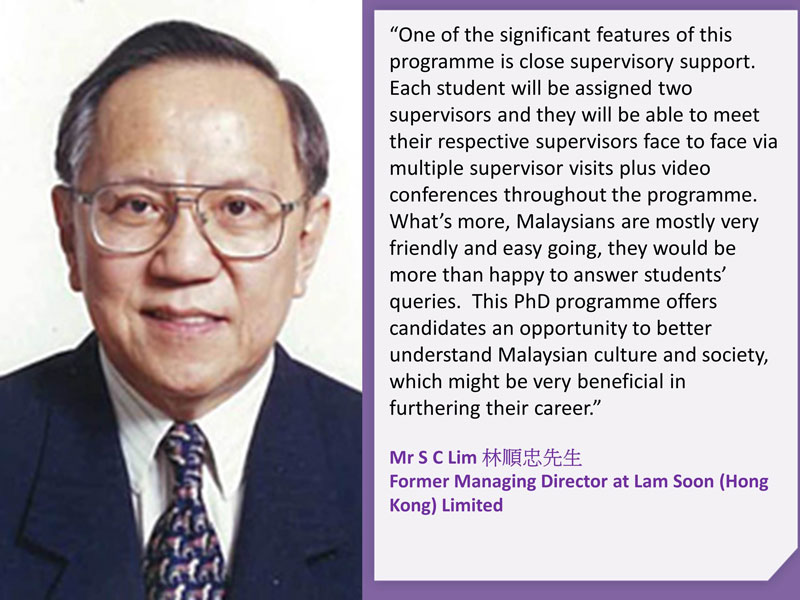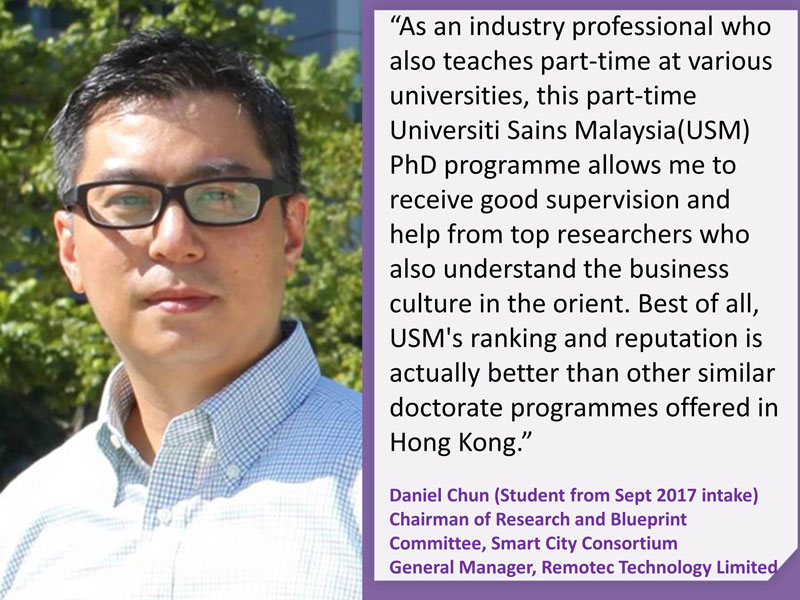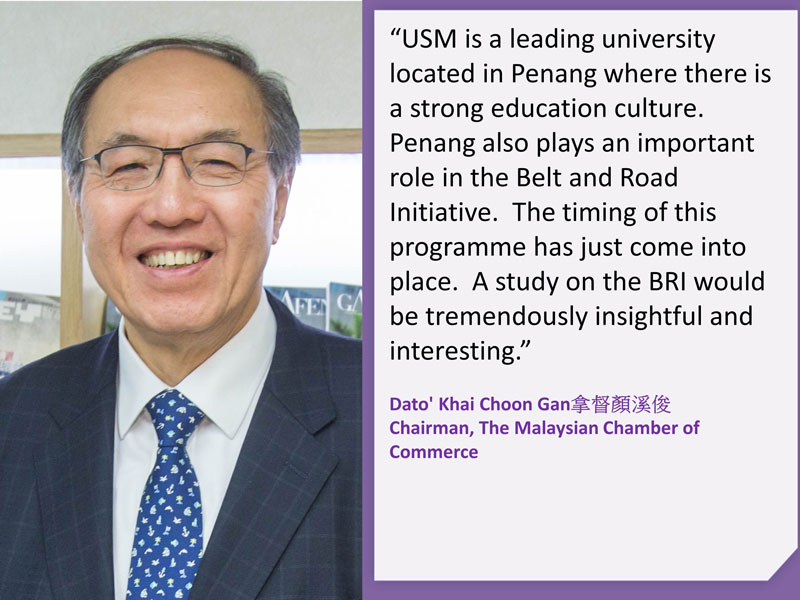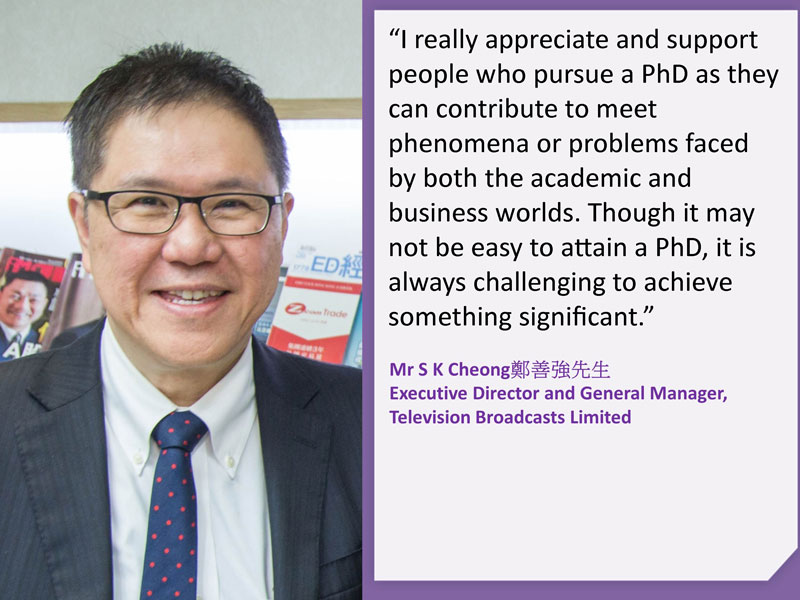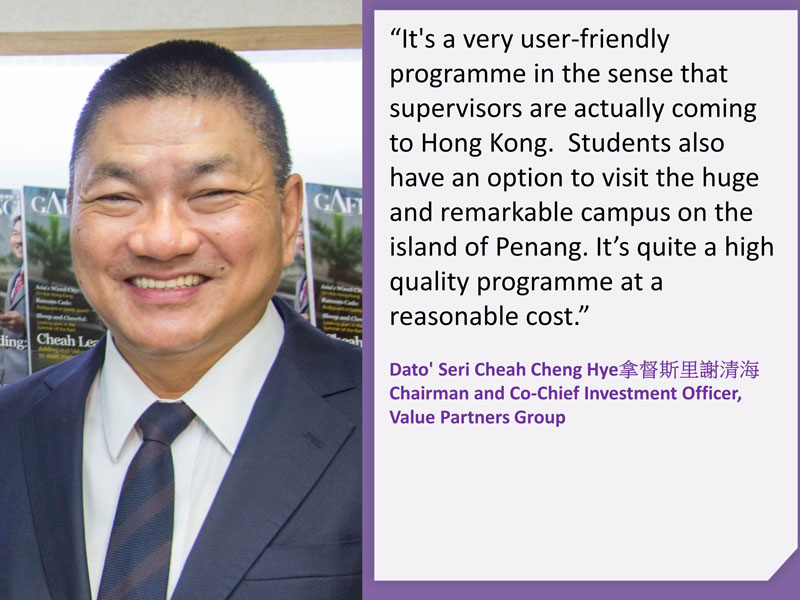 Endorsement from Malaysian Business Leaders in HK
Dato' Seri CHEAH Cheng Hye 拿督斯里謝清海
Chairman and Co-Chief Investment Officer, Value Partners Group
Mr S K CHEONG 鄭善強先生
Executive Director and General Manager, Television Broadcasts Limited
Dato' Khai Choon GAN 拿督顏溪俊
Chairman, The Malaysian Chamber of Commerce
Admissions
Fees
Tuition fee: HK$239,860
The below course fee is applicable to students admitted in September 2018 and thereafter:
Course fee: HK$239,860, to be collected in 10 installments
Installment 1 HK$52,060
Installment 2-4 HK$26,000 each
Installment 5-8 HK$22,500 each
Installment 9-10 HK$9,900 each
Application fee for new applicants: HK$250 (non-refundable)
This programme is an eligible programme under The Extended Non-means-tested Loan Scheme (ENLS) provided by the Government of HKSAR. For details, please refer to http://www.wfsfaa.gov.hk/sfo/en/postsecondary/enls/overview.htm
Entry Requirements
A Master's degree or an equivalent qualification from universities with a minimum CGPA of 3.00.
English Language Requirements: An IELTS overall band score of 6.0 or TOEFL score of 550. Applicants with their mother tongue in English or who have completed their Bachelor's or Master's degree fully in English are exempted from the English Language proficiency requirement.
Enquiry
Course Details
General Enquiry / Course Enrolment / Membership