BA(Hons) Human Resource Management
Overview
Human resources are critically important to business success, and for many organisations may be their key competitive advantage.
The Human Resource Management course is designed to deliver a core of business subjects that will meet the needs of students wishing to pursue a career in any branch of business or the public sector. In addition, the Course contains HRM modules which allow students to develop this specialism. The course covers people resourcing, human resource development, employment relations and supports this with the study of culture, society and strategy.
Why choose University of Huddersfield?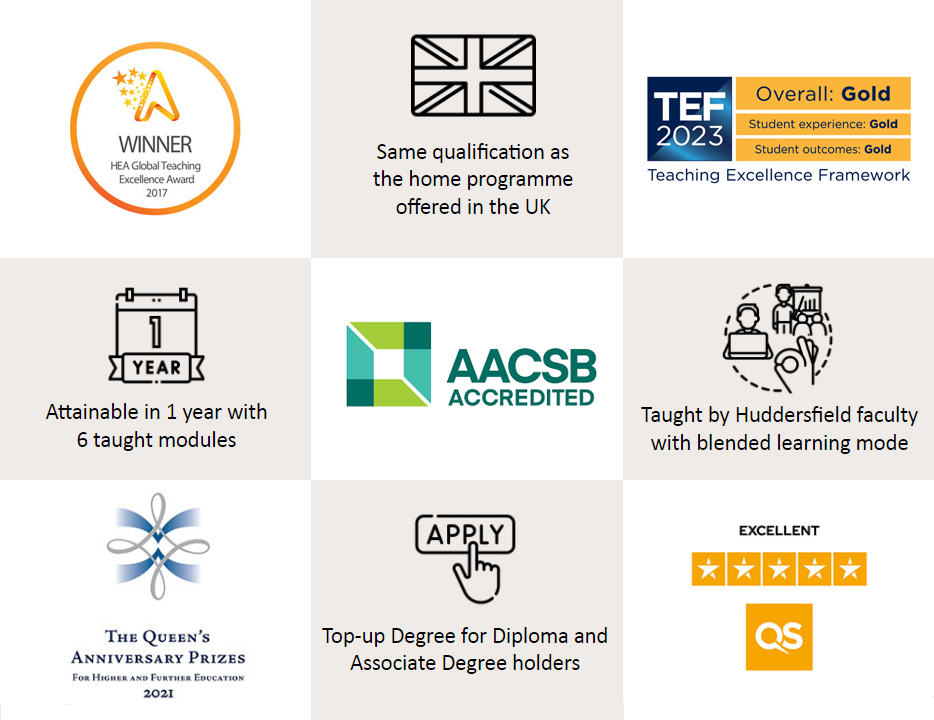 Achievements of University of Huddersfield:
Teaching Excellence Framework (TEF) gold-rated University (2023)
Huddersfield Business School has been awarded AACSB accreditation (2023)
QS 5 Stars (2023)
The Queen's Awards for Enterprise: International Trade (2022)
The Queen's Anniversary Prizes (2021)
No. 1 in England for professionally qualified teaching staff (Higher Education Statistics Agency 2020 & 2021)
Global Teaching Excellence Award (Higher Education Academy 2017)
A TEF gold-rated University
Talent Development Fund
Talent Development Fund: Now open for application. Successful applicant will be awarded $20,000. (Applicants must meet the requirements of the scheme. Only new application of the programmes are accepted and students are not allowed to apply fund for programmes which are currently enrolled.)
Details
University of Huddersfield
The University of Huddersfield is a long established and successful university with a long and proud tradition in teaching and research. From its roots in 1825, the University has kept its scientific and mechanical expertise and over the last 180 years has successfully expanded into the arts, business, humanities, education and health sciences. The University now has nearly 20,000 students. It is the UK's only University where all permanent teaching staff are Fellows of the Higher Education Academy.
The University of Huddersfield has been awarded an outstanding Gold rating, the highest accolade attainable, in all three aspects of the Office for Students' latest Teaching Excellence Framework (TEF). The University secured a Gold rating in both critical categories of student experience and student outcomes, reflecting its unwavering commitment to providing an exceptional student experience and fostering excellent student outcomes. These ratings were awarded in 2023, for four years. The University was the only university in Yorkshire and the Humber and the North West to achieve Gold ratings in all three aspects of the TEF among those announced in September 2023. Only 13 Universities out of the 96 that were announced in September 2023, were Gold in all three ratings.
The Huddersfield Business School has been awarded a coveted accreditation, AACSB, which less than six percent of institutions offering business degree programmes manage to achieve. AACSB accreditation from AACSB International ensures continuous improvement and provides focus for Schools to deliver on their mission, innovate, and drive impact.
The University has also recently been awarded its third Queen's Anniversary Prize and a Queen's Award for Enterprise in the category for International Trade, an award that is reserved for the most outstanding UK organisations.
Details
The full BA(Hons) degree comprises 360 credits. Qualified students entering the Hong Kong programme are automatically given 240 credits exemption from the full programme and can usually complete the programme over a period of twelve months.
Year 3
(120 Credits)
Employment Relations
The Future of Work
Human Resource Development
Managing across Cultures
People Resourcing
Strategy in Context
Year 2
120 Credits Exemption
(Qualified Candidates are exempted from this year)
Year 1
120 Credits Exemption
(Qualified Candidates are exempted from this year)
All six modules are taught via blended learning with a combination of face-to-face teaching and interactive online technologies. Blended learning allows students more time to reflect and engage with the modules leading to an enhanced student learning experience.
Each module will generally has an eight week study schedule as follows:
Week 1
Online Lecture
Weekday 1
(7pm-10pm)
Self-study:
Video lectures and Readings
Week 2
Face-to-face Teaching
Weekday 1
(6pm-10pm)
Face-to-face Teaching
Weekday 2
(6pm-10pm)
Face-to-face Teaching
Saturday
(2pm-10pm)
Face-to-face Teaching
Sunday
(9am-5pm)
Week 3
Self-study:
Video lectures and Readings
Week 4
Online Lecture
Weekday 1
(7pm-10pm)
Self-study:
Video lectures and Readings
Week 5
Assessment Workshop
Weekday 1
(By appointment)
Assessment Workshop
Weekday 2
(By appointment)
Week 6
Self-study, Revision and Coursework
Week 7
Examination (if applicable)
Week 8
Break
Hear from our Alumni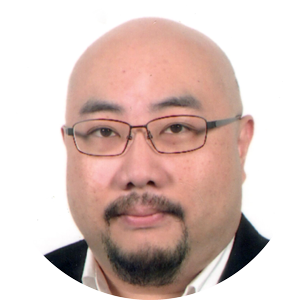 Billy Wong
Inventory Controller
Cathay Pacific
"The excellent UK teaching team and flexibility of the programme were the main reasons I chose to study Huddersfield. Professors and lecturers were willing to help and I was able to meet a group of high quality classmates in the industry. This programme and qualification provide me with fundamental knowledge and skills for my postgraduate study and enhance my career development."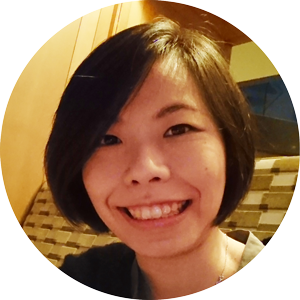 Anita Lo
HR Manager
Stan Group (Holdings) Limited
"I chose the Huddersfield HR Management programme for its fine reputation, and it was applicable on my career as well. It was an amazing experience during my study, the faculty from the University had incredible patience to discuss with students. They provided useful guideline to students from their professional point of view. Students did not just focus on study as faculty could inspire their logical thinking. This is extremely valuable on my development."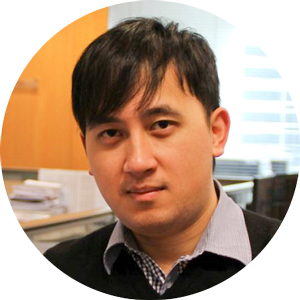 William Lo
Head of IT
Mirae Asset Global Investments (HK) Limited
"I chose Huddersfield because of the reputation and flexibility they gave to students. I was impressed by the resources provided online and the facilities in the UK for Hong Kong based students. There was a lot of interaction with my classmates and faculty. Today I can further advance on my career thanks to the University of Huddersfield."
Admission
Tuition
HK$ 73,500 (Course fee: HK$12,250 x 6 installments)
*This programme is an eligible programme under The Extended Non-means-tested Loan Scheme (ENLS) provided by the Government of HKSAR. For details, please refer to: http://www.wfsfaa.gov.hk/sfo/en/postsecondary/enls/overview.htm
Entry Requirements
The BA(Hons) Hong Kong Programme is an advanced standing status programme. To be considered for admission with advanced standing status, applicants must have at least a Diploma qualification in business related disciplines from a recognized institution:
Graduates of the Diploma in Management Studies (DMS) / Advanced Diploma in Management Studies (ADMS) jointly organized by the HKMA / HKPolyU or HKMA / Lingnan University; or other qualifications deemed by University of Huddersfield to be equivalent to these qualifications.
Graduates of a Higher Diploma in Business (or equivalent) in a business related subject such as accounting, administration, corporate management, public sector management or leisure services management from a recognised institution in Hong Kong or elsewhere.
Graduates of the Edexcel Higher National Diploma in a business related subject from a recognised awarding body in the UK or the equivalent for Hong Kong based students. As appropriate, either the UK National Academic Recognition Information Centre (UK NARIC) Database and/or the Hong Kong Qualifications Framework will be used to judge equivalence.
Mature applicants with substantial working experience holding the professional diploma qualification and other relevant experience may be considered on a case-by-case basis.
English Requirements
Applicants must be proficient in English Language and will be required to provide evidence of proficiency (such as a minimum GCSE Grade C, TOEFL 550 or IELTS 6.0), unless their higher diploma qualification has been undertaken in an institution where the language of instruction is English.
Enquiry
Course Details
General Enquiry
---