Advanced Diploma in Professional Accounting Studies
Overview
The Advanced Diploma in Professional Accounting Studies (DADAS) offered by The Hong Kong Management Association (HKMA) is specially designed for those who wish to enter in the accounting and finance industries at para-professional level. This programme provides a good opportunity for candidates to build up solid accountancy knowledge and techniques.
DADAS aims at developing students' accountancy knowledge and skills at an advanced level. The curriculum is developed based on the syllabi of the Applied Knowledge and Applied Skills exams of the Association of Chartered Certified Accountants (ACCA).
DADAS graduates can articulate to BA (Hons) Accounting and Finance (BAAF) offered by University of Greenwich in collaboration with HKMA. DADAS and BAAF are ACCA approved programmes. Graduates who have completed both programmes are eligible to apply for ACCA exam exemptions upto 9 papers (F1 – F9).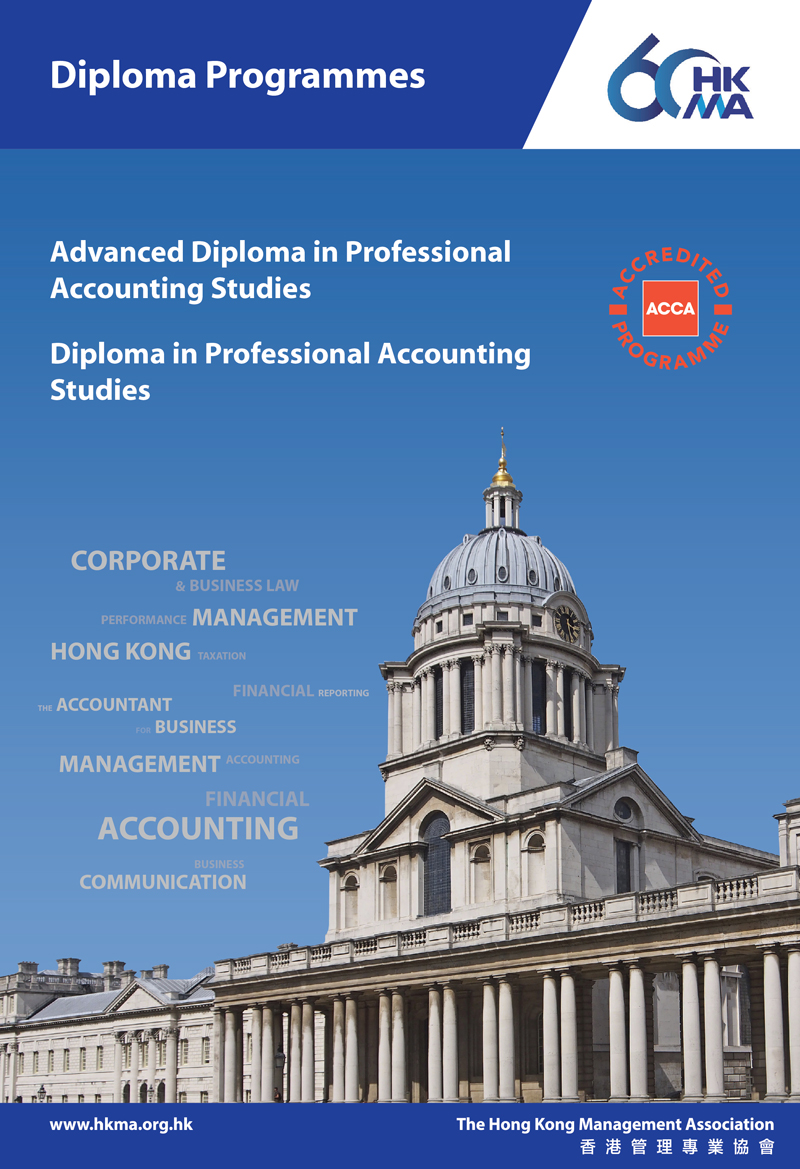 Online Information Session
Time:
19:15 - 20:15
Add to Calendar:
---
Information at a Glance
Deadline for New Application:
Tuition fee for Members:
HKD$5,100
Tuition fee for Non-members:
HKD$5,400
Medium of Instruction:
English
Mode of Instruction:
Face-to-face
Due to current COVID-19 situation, the mode of instruction might be changed from face-to-face to online teaching if necessary in the event that face-to-face classes cannot be held. The Association will contact the students concerned with details of such arrangements as necessary.
Brochure
Timetable
Details
The DADAS programme is a part-time evening programme and can be completed in 1 year. The Programme consists of 4 modules and the structure is listed as follows:
Module
No. of Lectures
Lecture Time
DADAS 01 Corporate & Business Law
20
7:00pm – 10:00pm
DADAS 02 Performance Management
DADAS 03 Hong Kong Taxation
DADAS 04 Financial Reporting
ACCA offers F1 – F9 exemptions to the graduates who have completed BOTH DADAS and BAAF programme.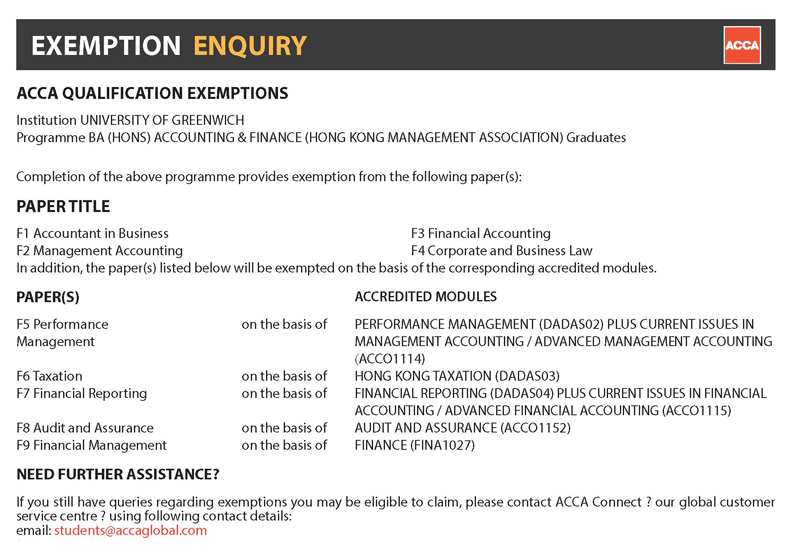 Graduates of DADAS programme can articulate to the Bachelor of Arts (Hons) Accounting and Finance programme (BAAF) offered by University of Greenwich.
Advanced Diploma in
Professional Accounting Studies (1 year)
It is a matter of discretion for individual employers to recognize any qualification to which these courses may lead.
Enquiry
Course Details
General Enquiry / Course Enrolment / Membership
---